Your Donation to a Circle of Hope Survivor is Just a Few Steps Away
Just A Breath Away partners with Severe Traumatic Brain Injury survivors & their families. 
90%  of all profits from Kathleen's art are given to STBI survivors and their families.
March is Brain Injury Awareness Month!
Meet our 1st Circle of Hope Sponsored Survivor! Spotlight on Lesley Leamy, Survivor Warrior.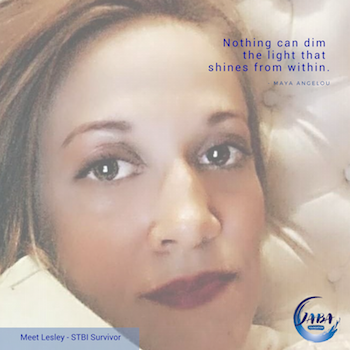 After a head-first workplace fall from a 15-foot ladder, Lesley was diagnosed with white matter brain damage. Loss of this connective brain material is known to affect memory, focus, and problem-solving and can play an important role in mood, walking, and balance.
Despite the terrible hand she was dealt, through it all Lesley has learned to laugh and carry on with a positive attitude. While she strives to regain her health, she remains dedicated to advocating for epilepsy awareness.
For March and April, every piece of artwork that is sold and contribution that is made to JABA will help cover Lesley's medical and living expenses. With donations starting at only $25, you too can make a difference in the life of this survivor warrior.
When you sponsor through Just A Breath Away Foundation, you offer a helping hand to a severe traumatic brain injury survivor in need. Your contribution directly benefits our Circle of Hope survivor to help meet their basic needs, but it also helps do so much more.
Our team members work with sponsored severe traumatic brain injury survivors & their families on how to best use their benefits to achieve personal and family goals. This may include assistance for:
Health Care & Resources
Nutrition & Food
Counseling, Physical Therapy & More
Improved Living Conditions
Everyday Necessities 
Just A Breath Away's Paintings of Promise sponsorship program is about listening to severe traumatic brain survivors who need a helping hand and a platform to share their story, their voice.
What a Paintings of Promise Sponsorship Means for Me:
Each contribution goes directly to our selected severe traumatic brain injury survivor for a period of time. To donate, you simply visit our secure Classy.org page & you choose the level of impact that works best for you. In turn,  we'll send you your selected painting gift & a receipt, then our sponsored survivor receives the monetary donation after the end of each month.
Donate Now!
Please visit our Classy.org donation page to donate! Select the impact block that works best for you.
Registering your account on Classy.org
To complete your donation, you must set-up an account on Classy.org. Once completed, you will receive an invitation from Classy.org to register for online access. It is secure & easy to use!
With your online account, you can:
Manage your account and view donation history

Continue to donate to JABA's Paintings of Promise sponsorship program.

Sign-up to join our Circle of Hope Community for news & internal updates on Kathleen & our survivors.
Watch for your special #JABAHope Gift by mail!
Upon donation, your Just A Breath Away donation gift will be sent 

within 30 day

 of the close of each survivor's program.

Share your gift on social media, like Instagram & tell us what it means to you using the hashtag: #JABAHope! We will feature your story.
Get involved
Make the most of your sponsorship experience by:
Thank you!
Sincerely,
Kathleen Newhouse & Team JABA